Your own custom email lists
Our content network lets you target users who represent email accounts you upload into the system.
How does targeting based on identification by email account work?
Custom email lists, for example a list of registered users who subscribe to your newsletter, form the basis and are the most important factor for using this type of targeting. Simply upload your "owned" email addresses to your Sklik account and we will take care of the rest. Specifically, we will "clean-up" your list, which is performed by matching it with our registered users' email addresses. Of course, we immediately delete the addresses we do not recognize. The resulting list undergoes a second validation phase, which consists of verifying that we have the user's consent to deliver targeted advertising to the given account. The resulting list, thus validated, lastly undergoes a final matching to another digital identifier, which we use in the advertising system to serve ads. Once this process is complete, we immediately delete all of the uploaded addresses – our advertising system does not work with them in any way in order to prevent their possible misuse. We do not share email addresses with any external entities under any circumstances.
Uploading email lists
The upload interface can be found in section Tools -> Retargeting under a new menu option for retargeting lists: "Email".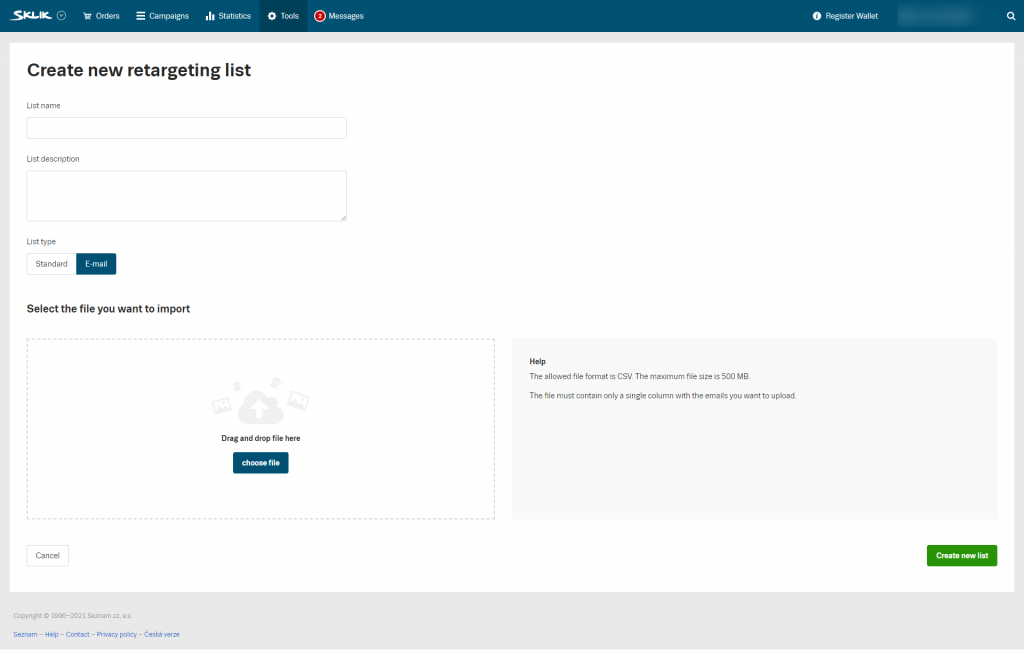 Before uploading, you must agree to the additional terms and conditions for using this service. The importing of the email accounts will therefore only physically occur after the consent is given.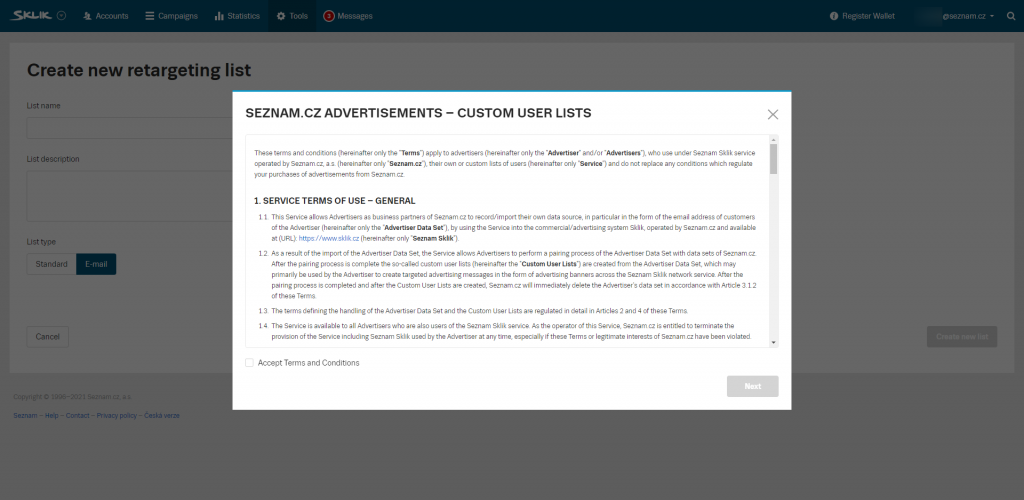 How to upload?
There is a minimum requirement of 200 paired validated addresses with consent to targeted advertising to activate the uploaded audiences and run the campaign.
There are two ways of uploading email lists:
Manually upload the list in csv format. The file must contain one email address per line. If the file contains a non-valid email, e.g.: kvetinka88.seznam.cz, this item will be skipped/ignored. The maximum size for a manually imported list is 500 MB.
Automatically upload using an API, see documentation. API restrictions are also described in the documentation.
How to add/remove email accounts to/from the list
Via the web interface – make changes to the list by re-uploading the file. It is not possible to remove specific emails or add new ones. The entire email list containing the changes must always be re-uploaded.
Via the API – the process works differently. The API contains two methods, one to add a new email, the other to delete it.
Segmentation options
You can only scale your own audience based on your own customer insight. So it is your call as to whether you upload the complete list of owned email addresses, or use internal tools and customer insight on your side to split them into your preferred audiences, for which individual strategies will be formulated. In general, you can work with these audiences as retargeting lists, e.g.:
All customers;
Inactive customers;
Regular customers;
Etc.
Number of validated matched accounts – how big is the target audience?
At the import stage, the following checks/validations will be performed:
First, the deduplication and validation of the uploaded addresses (to check if they are real addresses). The interface will display the number of valid emails.
In the second step, the list of valid emails will be "filtered" through the database of registered users.
In the last step is verification that all paired addresses have Seznam.cz targeting enabled. After this step, the number will be updated to show the final number of paired addresses.
The process of matching and list creation depends on the number of imported addresses. Lists of thousands to tens of thousands of addresses can take several minutes, large lists containing hundreds of thousands of addresses should be activated within an hour of import.
Supported advertising formats
This targeting method can be combined with all types of supported advertising formats, with the exception of special types of formats which are associated with the Search Network or are XML connected (Product Ad, DRTG, DB).
Combination with other types of targeting
Custom email lists can be combined with other types of targeting.
However, you will not be able to create combinations of classic retargeting lists with lists created by importing email addresses.
Custom email lists cannot be used to be excluded from searches.
Custom email lists do not have a set lifespan as is the case with classic retargeting lists. You manage their life, or keep them up-to-date, by re-uploading a newer version that replaces the original file.
Terms and conditions
These conditions apply to advertisers who use their own user lists within the Seznam Sklik service operated by Seznam.cz, a.s. and do not replace any conditions that apply to your purchase of advertising from Seznam.cz.
Terms and conditions apply to advertisers who use their own lists of users