Search Network
Ads are displayed on the essential Czech search engine Seznam.cz, including mobile searches on Seznam.cz and other partner search engines. PPC advertising in a search network is very effective as it allows the targeting of people who are actively looking for specific information or a specific product or service.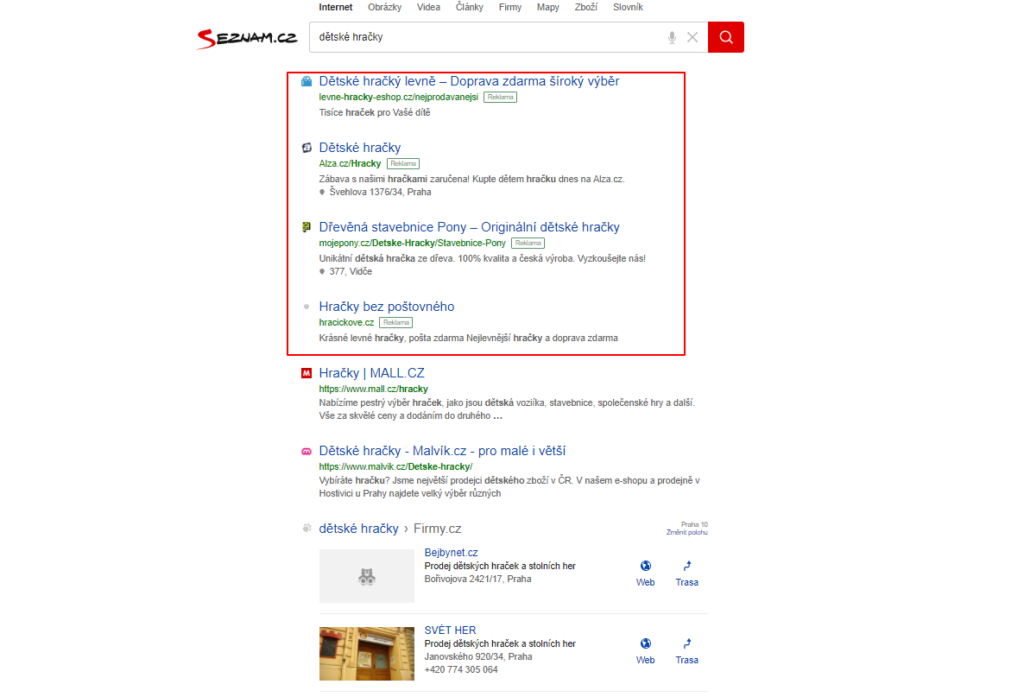 As a result, ads relevant to what they are searching for are offered and displayed to users. In the Sklik search network we have four TOP positions. This means the first four results in the search (above the organic search results). Then we also have three standard positions (on the page below). The TOP position, as compared to the standard position, features in a more visible location on the page. Near the TOP positions or below, there are also Product Listing Ads. This means offers with pictures and prices which are linked to the Zboží.cz feed. You can see a variation of two, three, four, or six offers on the page. If you want to have your ad in the TOP position, the quality factor, price-per-click, and the success of your ads must comply with the internal criteria. We recommend you to focus primarily on writing interesting ads, writing about the competitive advantages, good targeting, and a competitive setting of CPC.
Account Structure
The account hierarchy consists of Campaigns and Ad groups containing Keywords and Ads. Thanks to this structure, you can categorize your advertising logically. Your account can contain an unlimited number of Campaigns -> Ad groups -> Keywords and Ads.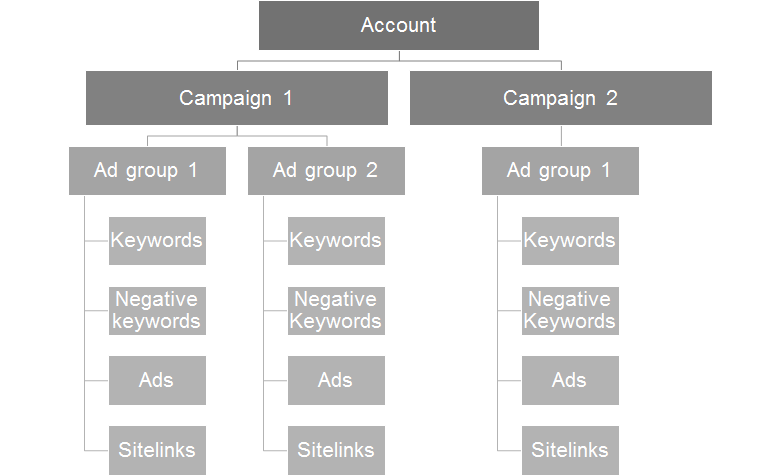 Keywords
Ads are being displayed based on the keywords, therefore, the selection of relevant keywords is really important. Sklik works with three different keyword matches. Every match will trigger your keyword differently.
Keyword matches:
[Exact match]
Ads will be displayed only when the keyword and query are exactly the same. In case that keyword contains of two and more words, diacritic is removed or added automatically.
| | | |
| --- | --- | --- |
| Keyword | Will show | Will NOT show |
| [hotel prague] | hotel prague | hotel prague cheap |
| [kočka] | kočka | kocka |
| [míč na fotbal] | mic na fotbal | koupím míč na fotbal |
"Phrase match"
Words can be added behind or before the keywords; diacritics can be changed but word formation is not possible.
| | | |
| --- | --- | --- |
| Keyword | Will show | Will NOT show |
| "cheap ball" | cheap ball for football | cheap football ball |
| "černá kočka" | velka cerna kocka | cerna velka kocka |
| "wheelchair" | white wheelchair | wheelchairs |
Broad match
The ad is displayed whenever a user enters a query containing a keyword, diacritics can be changed. Keeping the order of the words within a multi-word query is not obligatory, but their occurrence in the query is necessary.
| | | |
| --- | --- | --- |
| Keyword | Will show | Will NOT show |
| cheap ball | Cheap ball | ball cheaply |
| | Cheap balls | football ball |
| | Cheap football ball | small ball |
+Broad +modified +match
Currently, the broad modified match test is paused. At this point, broad modified match keywords are triggered as standard broad match.
Keyword proposal tool
With the Keyword proposal tool you can find new keywords for your Search Campaigns. You will find the function in the Tool section.
There are several metrics and practical indicators next to each proposed keyword.
Number of searches: 12-month average of the user requests in Search network.
Yearly trend: trend in a number of searches for the last 12 months.
Competition: shows the general interest of the advertisers (for this specific keyword).
Cost: average CPC for the keyword during the past 60 days.