Dynamic retargeting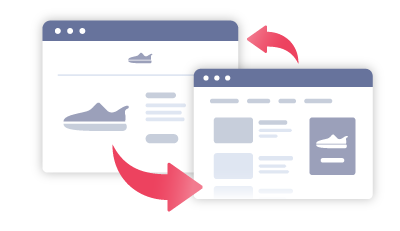 Every e-shop that has a registration on Zboži.cz can reach its customers through dynamic retargeting.
Dynamic Retargeting (DRTG) shows visitors to your e-shop the goods they viewed, including the image and the current price. By linking to a Zboží.cz feed, there is no need to enter any retargeting conditions or edit a retargeting code. The system knows what the users were looking at. You don't have to enter ads or upload banners. Sklik will create it for you from the feed itself.
DRTG can also be displayed in purely textual form on selected sites, for example, under an article on Novinky.cz or Sport.cz.
DRTG settings
1. First, you have to link Zboží.cz with your Sklik account. In the Tools section click on Linking with Zbozi.cz and inset your Username and Password (the same as you use to log in to Zboži.cz). If you already use Product listing ads, you do not have to link it because it is already active.
2. After linking Zboží and Sklik, in the Retargeting section (in the Tools section) retargeting lists DTRG – Návštěvníci produktu, DRTG – Návštěvníci kategorií will be created automatically with the name of your branch. If you have more branches, it will create more DRTG retargeting lists. The default membership is seven days. This duration means how long the ads will be displayed to a user for. You can change it. Please be aware that too long a duration can lower the effectiveness of campaigns and be annoying for users.
3. Click on New campaign and select the campaign type: Product campaign. Add the campaign name and daily budget and primarily choose the network: Context: Dynamic retargeting.
To ensure continual updating of the offers in the feed, we will only show the offers of branches that are used for DRTG. Therefore DRTG is only functional when at least one DRTG retargeting list for a given branch is assigned to the ad group of a DRTG campaign.
4. Create an ad group and in the retargeting bookmark, assign the DRTG in the same way as you assign regular retargeting lists.
5. To avoid showing your offers to existing customers, be sure to exclude converting audiences from your report. This is done in the same way as with regular retargeting. You exclude the viewers from the list who placed an order at the ad group (or campaign) level. Do not put the DRTG list in a retargeting combination; this will not work.
Logo for DRTG
DRTG ads show the logo of your e-shop. After registering the e-shop on Zboží.cz, our administrators connect it with a profile at Firmy.cz (please verify that you have the logo uploaded – if not, you will not see DRTG); no further settings are required.
We recommend uploading the logo in the maximum quality that the system currently allows.
Logo format:
pictorial, typographic, or combined
PNG of exact size 200x100px
if the logo does not cover the entire format, it is necessary to use a transparent background
you cannot insert copyright-infringing logos
collages or photos cannot be inserted
you cannot insert logos containing information or elements that are not part of the advertiser's logo as presented on the website, such as discounts, events, or free shipping,
Examples of templates of DRTG ads you can find here.