Automatic import from Google ads
About App
This function allows set automatic synchronization from Google Ads. You can select from list of your campaign to one time sync or periodic automatic synchronization.
How to set up
Automatic import from Google ads you find in Tools -> Import Google Ads campaigns
1) Sign in with Google. Use default Google button to make oAuth connection with Google.
2) Create import. In first step you have to select Google Ads account what will be use as source account for sync. Set sync schedule, campaigns params what will be ignore (not synchronise). Use find and replace function (This feature will find and replace text in target URLs according to your settings.)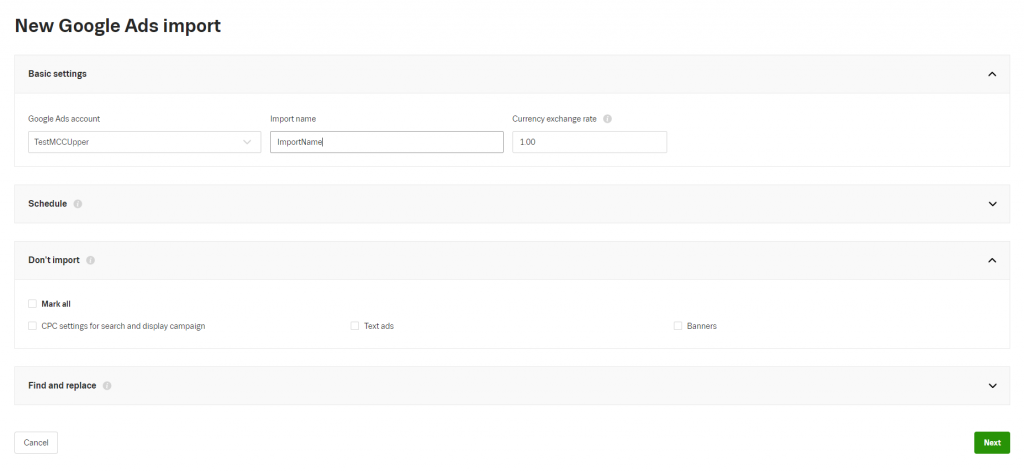 3) Last step. Select list of campaign and save new sync event.
Privacy policy
In the application Import kampaní in this text as the application, we use access to your Google Ads account to automatically synchronise campaign settings into selected Sklik account. In the synchronise setting, you can restrict the list of campaign or specific parameters that will be synchronised to the Sklik account.
List of all accounts and list of all campaigns that are available in Google Ads we do not save over all places in the application. At Sklik we save only campaigns identificator and list of settings that you will select to synchronise.
We are fully aware of the complexity structure of Google Ads accounts and MCC accounts. Also we know how this information (what accounts are linked) are private. Therefore we do not show accounts or other information that the owner of the connection (owner of the connected Google Ads account) will not allow in the application.
The application does automatic resynchronization, therefore you can stop these automatic jobs. You can also revoke connection with Google Ads at the Sklik side or remove the application authorization in the Google Ads setting.
All information saved in the application is part of Seznam GDPR rules and security standards.